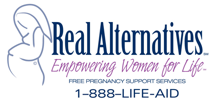 Profile
Real Alternatives
7810 Allentown Blvd # 304, Harrisburg, PA 17112
(717) 541-1112
Twitter
Blogger
Tumblr
Contact Me
Headquartered in Pennsylvania, Real Alternatives operates pregnancy and parenting services programs. Through 1-888-LIFE AID, the organization offers confidential, no-cost support services. Real Alternatives' pregnancy-support counselors provide personalized reproductive health education and assist women in securing appropriate medical care. Beyond Pennsylvania, it operates programs in Michigan and Indiana, and is launching new ones in another dozen states.

Real Alternatives has a fundamentally life-affirming perspective that empowers women to avoid crisis pregnancies and select childbirth rather than abortion. The nonprofit reports that 87 percent of abortion-pressured and 66 percent of abortion-minded women it has served chose childbirth for their children.

The Real Alternatives commitment to support extends to helping parents ensure that their babies are well-cared-for. It assists new mothers in finding temporary shelter if needed during the baby's first year and provides free parenting classes. In addition to its Pennsylvania pregnancy support centers, the nonprofit maintains a network of maternity homes and adoption centers. To learn more about its full range of offerings, visit www.realalternatives.org.